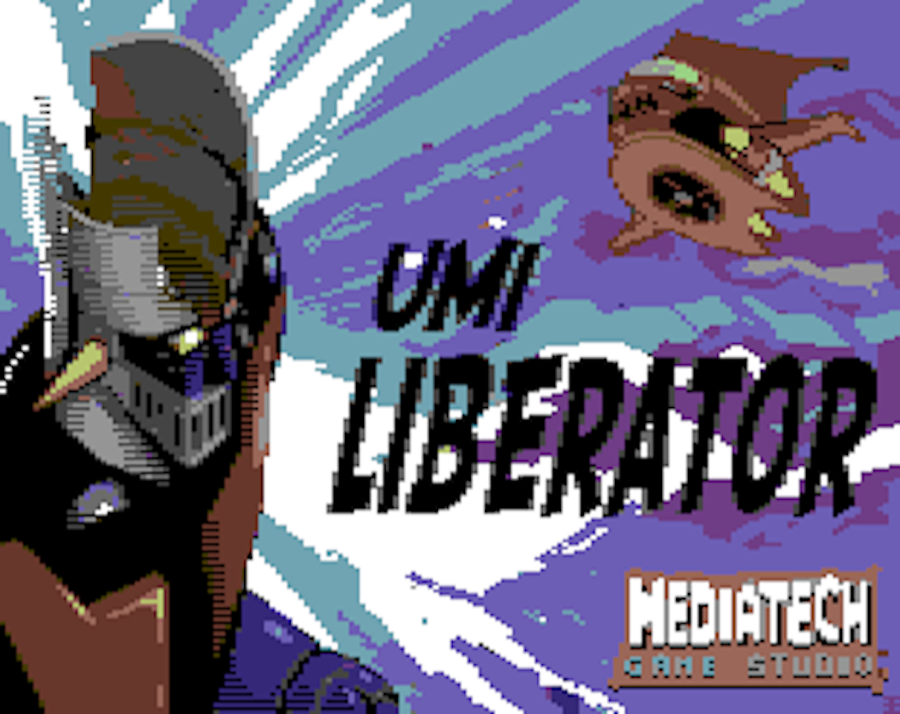 Umi Liberator (C64)
UMI LIBERATOR
Factsheet:
Developer/Desarrollador: Mediatech Game Studio (Game Designer: Kabuto), Twitter: Kabuto
Release Date/Fecha de lanzamiento: March, 2021
Platforms/Plataformas: C64/PC with emulator C64
Objective of the game:
Umi is teleported to a valley where the famous giant robot Mazinger Z is trapped by the Tetsukamen forces of Baron Ashler, her mission is to deactivate level by level the containment devices that do not allow the "Z" to activate and for this she must board the Jet Pilder and bombard Dr. Hell's minions.
Do not let the tetsukamen touch you, you must run to the jet pilder and climb on it by pressing the fire button, then avoid the shots by moving your ship from side to side and shoot the bombs on the enemy. While the seconds are running, the containment devices that have Mazinger Z trapped are deactivated, until they are all completed and thus end the game by activating our giant robot and returning Umi to her world.
The Joystick must be in PORT 2 of the C64 or configured in the emulator.
Game history:
It's my return to the Commodore 64 for over 35 years using the wonderful Maker developed by the genius Garry Kitchen (@kitchengarry) under the Activision label of the time. This Maker is like a Basic repowered with commands for sprites, sounds, scenes, music, samples, tables and very few variables which make programming a video game logically quite a feat, but for veterans like me it is perfect to sharpen the mind and the senses to achieve a playable work. It has modules to treat multicolored or mono-colored sprites with a very simple and complete editor to use with the same joystick (Sprite Maker), the same for the scenes (Scene Maker) that you can only have 2 in the game, the sounds separate theme ( Sound Maker) and finally a very complete music editor, I would say that it is the most worked module (Music Maker) where you can compose with musical notes the 3 glorious channels that the C64's SID chip handles.
Garry Kitchen Game Maker:
I leave to the community of fellow programmers who want to venture into developing games for Commodore 64 the source codes of my games with their floppy disks so that they can easily work in an emulator and begin to get into programming for a machine that is almost 40 years old and that today is with a very lively scene that produces hundreds of games a year both free and commercial. So with the listings you can understand my logic, with the manual you can know the product and with the discs you can play my code and modify it however you want. If you want to support me, you can do so by donating here or providing a coffee in Ko-fi.
IMPORTANT NOTE: The .D64 files are working disks to work with the Game Maker, they are not executable games, to play just run the PRG files on your Commodore 64 or emulator. And if you want to learn how I made them, you can load the source code, sprites and scenarios on the working discs with Garry Kitchen's Game Maker.
Objetivo del juego:
Umi es teletrasportado a un valle donde se encuentra atrapado el famoso robot gigante Mazinger Z por las fuerzas tetsukamen del Baron Ashler, su misión es desactivar nivel a nivel los dispositivos de contensión que no dejan activar al "Z" y para ello debe abordar el Jet Pilder y bombardear a los esbirros del Dr. Hell.
No dejes que te toquen los tetsukamen, debes correr al jet pilder y subir en el presionando el boton de disparo, luego evita los disparos moviendo tu nave de lado a lado y disparas las bombas sobre el enemigo. Mientras van corriendo los segundos se van desactivando los dispositivos de contensión que tienen atrapado a Mazinger Z, hasta completarlos todos y así terminar el juego activando a nuestro robot gigante y regresar a Umi a su mundo.
El Joystick debe estar en el PORT 2 del C64 o configurado en el emulador.

Historia del juego:
Es mi regreso al Commodore 64 desde hace más de 35 años usando el maravilloso Maker desarrollado por el genio Garry Kitchen (@kitchengarry ) bajo el sello de Activision de la época. Este Maker es como un Basic repotenciado con comandos para sprites, sonidos, escenas, música, samples, tablas y muy pocas variables las cuales hacen toda una hazaña programar con lógica un videojuego, pero para veteranos como yo es perfecto para agudizar la mente y los sentidos para lograr una obra jugable. Tiene módulos para tratar los sprites multicolores o monocolores con un editor muy sencillo y completo de usar con el mismo joystick (Sprite Maker), lo mismo para las escenas (Scene Maker) que solo puedes tener 2 en el juego, los sonidos tema aparte (Sound Maker) y por último un editor musical muy completo, diría que es el módulo más trabajado (Music Maker) donde puedes componer con notas musicales los 3 canales gloriosos que maneja el chip SID del C64.
Game Maker de Garry Kitchen:
Dejo a la comunidad de colegas programadores que quieran incursionar desarrollando juegos para Commodore 64 los códigos fuentes de mis juegos con sus diskettes para que pueden trabajar facilmente en emulador y comenzar a adentrarse en la programación para una máquina de ya casi 40 años y que hoy día está con una escena muy viva que produce cientos de juegos al año tanto gratuitos como comerciales. Así que con los listados pueden entender mi lógica, con el manual pueden conocer el producto y con los discos pueden tocar mi código y modificarlo como ustedes quieran. Si me quieren apoyar pueden hacerlo donando acá mismo o brindando un café en Ko-fi.
NOTA IMPORTANTE:
Los archivos .D64 son discos de trabajo para trabajar con el Game Maker, no son los juegos ejecutables, para jugar solamente ejecuta los archivos PRG en tú Commodore 64 o emulador. Y si quieres aprender como los hice puedes cargar el código fuente, sprites y escenarios en los discos de trabajo con el Game Maker de Garry Kitchen.
Download
Click download now to get access to the following files:
Listado Umi Liberator.out
30 kB
Comments
Log in with itch.io to leave a comment.
Thank you very much Richard, a different engine than SEUCK but you can make small and fun games.😉
Tricky game, but quite fun also.